2 excerpts from my new chamber opera Memories Beyond The Grave, which will be workshopped in the Fall of 2021.
Schubert Now
The art-songs (lieder) of the 19th century make up a significant and vital part of the musical repertoire of the Romantic period. Arguably, their musical power, diversity and sophistication represent the epitome of Romantic compositional achievement. No less an authority than Robert Schumann once observed that "the only genre of classical music to make true progress after Beethoven was song." Indeed, composers such as Franz Schubert, Robert Schumann and Hugo Wolf produced a prodigious body of art-song cycles, comparable to that of the string quartet repertoire in terms of its place in western music history.
Today, however, it could be argued that despite its place in music history, the Lied is a dead art form. Only a tiny fraction of the populace (especially the North American populace) ever gets to hear this exceptional marriage of music and poetry in performance. And yet, music students study this music intensely in university; particularly voice and piano students, for whom it is often the focus of many years of study. A fortunate few of these aspiring classical singers go on to have successful careers as opera singers, pianists and chamber musicians. Yet all too rarely do these working singers and pianists have an opportunity to perform legendary song cycles like Dichterliebe, Die Winterreise or Kindertotenlieder.
Composer/singer/actor Michael Donovan, who is the driving force behind Schubert Now has experienced this phenomenon first hand. Deeply enamoured of lieder as a young man, Donovan was eventually accepted by the legendary Dietrich Fischer-Dieskau as one of his few private students. Under the late Fischer-Dieskau's guidance, Donovan learned to look beyond the songs as music, and to commit himself to Romantic lied's profound spiritual and cultural imperatives.
Poets such as Goethe (whose poems were set to music by Schubert), experienced the most dire forces of nature in a direct way; their senses heightened by disaster and disease as well as by sublime landscapes and residual intimations of pagan earthlore. The urban experience of the 20th and 21st centuries, on the other hand, has distanced and disconnected people from the natural world, affecting and altering their ability to communicate with nature and to understand their own personal stories through the prism of their natural environment. However, with the surging impact of climate change and a growing environmental consciousness in the west, Donovan believes it is time to revisit, to reclaim and to revitalize the treasures of the Romantic art-song repertoire.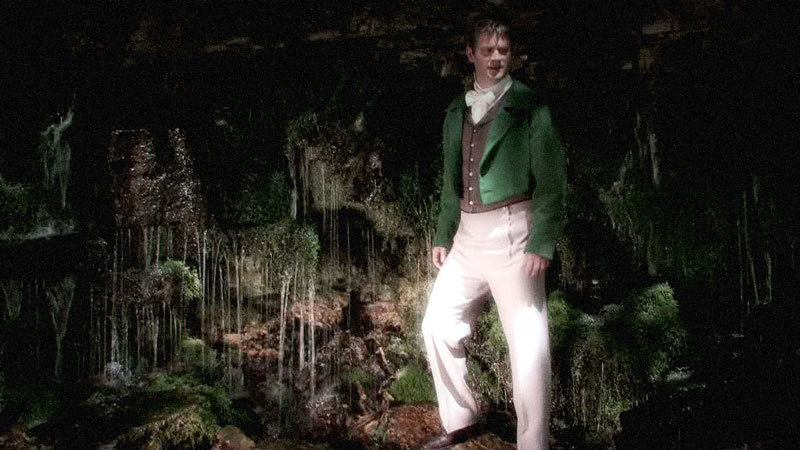 Schubert Now bridges the musical and cultural chasms that have marginalized lieder in concert halls through musical reinterpretations and cinematic treatments and projections. It explores the meaning and relevance of these transcendent nature-loving song cycles in today's world, through today's eyes, and today's ears. Schubert Now will be presented in concert halls as a feast for the eyes, the ears and the spirit, with a unique cinematically-enhanced concert featuring Michael Donovan and his electric lieder.
Michael Donovan's original electronic re-writings of Schubert's Liebesbotschaft, Erlkönig, Der Lindenbaum, Der Doppelgänger, Einsamkeit, Wasserflut, Der Wegweiser, Gute Nacht, Rückblick, Rast, Die Nebensonnen and Der Leiermann depart substantially from the originals, incorporating loops, inversions, stretching/condensing/variation of themes, and even new instrumentation. Yet, they remain profoundly true to the musical and poetic essence of each song. Meanwhile, lush visual treatments explore how cinematic elements such as contrast and affinity, space, line and shape, tone, colour, movement and rhythm can all help to communicate and embody the Romantic poets' experience today.
We wish to thank Interartsmatrix for their generous support for some of the production costs for the Erlking and Dreams of Love soundtracks.
For more information about Schubert Now please email us at: md@michaeldonovan.ca